Product Description
Yamaha DT, RT, VAPE ignition.
Formally Power Dynamo/MZB Ignition
Magnet based generator with integrated solid state ignition. Output 12V/180W DC. Replaces the complete old magneto system. Solid state, maintenance free, electronic ignition.
There is no need for changes on engine casing.
Applications
Yamaha DT1, DT2, DT3, RT1, RT2, RT3,

DT250/360/400 A-F 1969 - 1979

TY250 (1973-82) Requires Kit with heaver rotor, please call.

YZA 250 (1974)
Factory Magneto ignition, 130 mm Stator fastened by 3 screws, Magneto is held to crankshaft by nut
Advantages over old systems
all parts are new

very stable ignition with high energy spark

better starting and fuel burning, increases engine performance

solid light output (180W) enabling Halogen lighting

no problem with points anymore
Replaces a variety of systems
original dynamo of Yamaha

further original system

original stator of street version (also used)

original rotor of street version Yamaha
Ignition Kit includes:
assembly instructions

wiring diagram

Parts in the photo
Kit Options
Complete Kit with 12volt lights and a sealed battery
or
Complete Kit with 12volt lights and a Battery Eliminator now Available
Includes
Ignition Kit 7238799DC

12volt Head light Bulb to fit the stock or original 5 3/4 inch headlight. (tight squeeze)

4 turn signal bulbs

Tail light bulb

4 instrument bulbs

12 volt battery or a Battery Eliminator (your choice)

NOTE: We cannot ship the kit with the battery out of the USA.

NOTE: the battery included is the smallest 12 volt battery available. this will not fit without modification of the battery box. (we recommend using the battery eliminator kit)
Old System Photo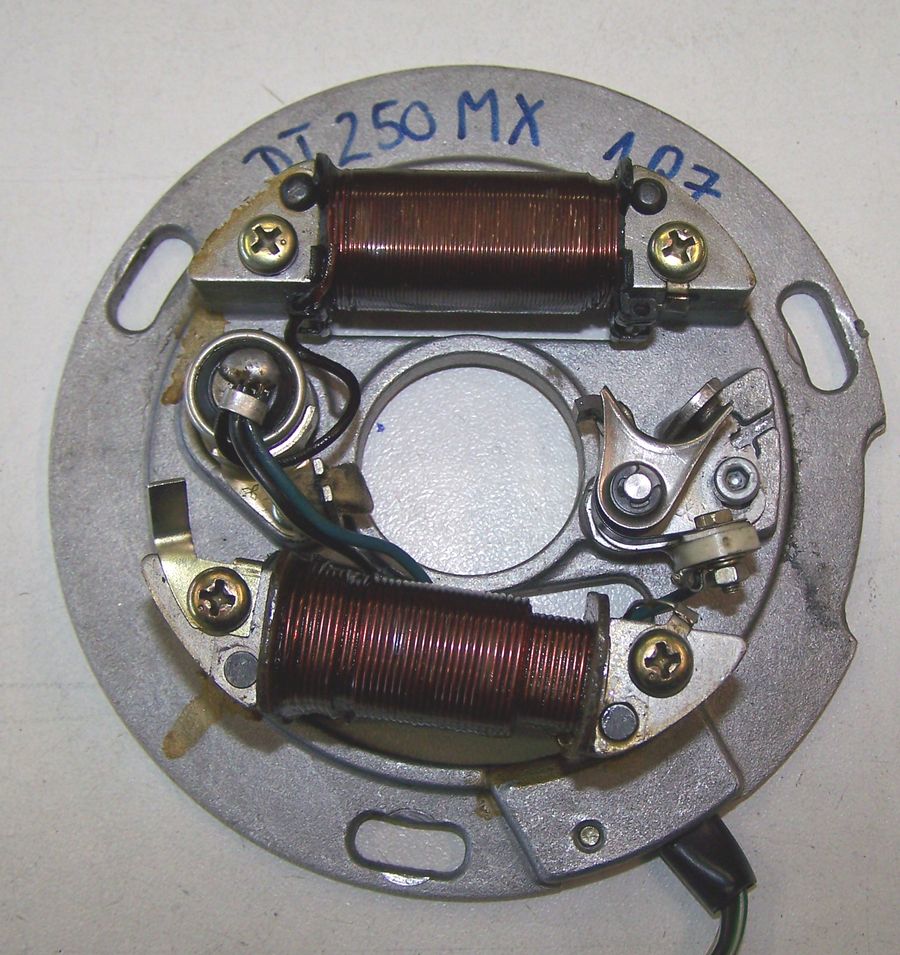 Please note: This system was made to replace the Mitsubishi magneto (as delivered mainly to the US market).
There was a second magneto, made by Hitachi and used from 1977 onwards mainly for the UK, Canadian and other markets and here the crankshaft and hence magneto fitting might be differing.
Product Videos
Custom Field
Product Reviews
My old RT-1 has never ran so good and now has a decent headlight. I liked it so much I bought another one for my other old yamaha. It runs awesome now too.

This setup is great! Very well made and worth every penny. I highly recommend it!

This is an excellent kit! With a soldering kit, an impact wrench and a couple of friends to help, we got my 75 Dt250 up and running in just a couple of hours!

This kit is awesome! Had a couple of friends help out with wiring and it fixed every issue on my '75 dt250. Definately worth the money! An impact wrench is a good idea to have handy. Included instructions are very helpful. With some help, everything was figured out in a few hours.

If you are looking at this cdi ignition you don't need to look any further for the answer to your ignition problems, this system is the answer. I got this system to put on a bike that sat for 20yrs and the breaker plate was totally destroyed, I put this on the bike in less than an hour, cleaned the carb and three kicks later it came to life, we have 4 more bikes that I'm very sure will be getting this system. Don't hesitate just buy it!!!

perfect solution for vintage bikes, easy to install

can't wait to get it put on!

HVCcycles is a great company and I look forward to doing business with them in the future!

Built very well, fits perfect, my Yamaha has not ran this good in years.

I worked on my 1975 DT250 everyday for two months. I purchased this and with the well detailed instructions I installed it. Turns out it was the last thing I needed and now the old bike is up and running again. Now I'm excited to hook it up to some new 12v lights!!!!